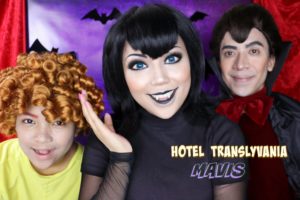 Costume parties are not limited in October and November. You can actually throw a party, dress up, and have a scary costume party in May while you get snapshots you can share with friends. Girls love to party or arranging parties. A great party theme that you can throw in May is Transylvania.
Welcome to Hotel Transylvania where gates won't just budge or garage doors Dunstable won't easily give way (Huh! That's a nice party introduction). To blend in right here with the monsters you're going to have to look like a monster yourself. Here is a quick make up tutorial to make you look like Mavis.
The Mavis Make up Tutorial
The Eye Brows. For your Brows, use black gel eyeliner and make your brows really thin and curved. You don't want it arched because it'll make you look really mean.
The Eye Makeup. Obviously it's going to be very dark. So, you'll need a smokey eye shadow palette and brush it all over your lids. A black eye shadow is a must because it will make you look very mysterious and intimidating like every monster should. The lower lash line needs to be just as dark.
Make Them Really Big. After all the black, use a white eye liner. Apply a lining in your waterline to make your eyes look really big and wide. Then take a black eyeliner and go even closer to the lashes, top and bottom and this is going to make the eye makeup look even more striking.
The Brow Bones and Inner Corners. Take an eye shadow that is as white as the midnight moon and apply that on your brow bones and your inner corners. To avoid looking like a hairless bat, apply some thick lashes. The first pair are going to be on the top and then on the bottom thinner pair.
The Nose. Shape your nose, take a contour powder, and deepen the edges first on the sides of your nose. And on the tip, add darker shadow so your nose looks cute like a button.
The Cheeks. Make your cheeks look really full. To create that effect, you'll need a shiny highlighter. Just dab it equally on your cheekbones.
The Lips. Use a grayish black lip liner and start creating really thin lip. You don't want it when your lipstick transfers to your fangs. Powder it with a black eye shadow afterwards.
The Wig. Put on that special black wig with v-shaped bangs. You can purchase this wig at online or any Halloween Party stores.
The Fangs. Finally, to be a vampire you're going to need fangs. You can purchase the fangs also online or any Halloween Party stores. Mix the powder and liquid that's included in the fangs you will purchase. Apply the mixture to the fangs. Wipe your actual teeth with a tissue and place the fangs right there for it to dry.
And that's how simple it is to look like an adorable vampire like Mavis.