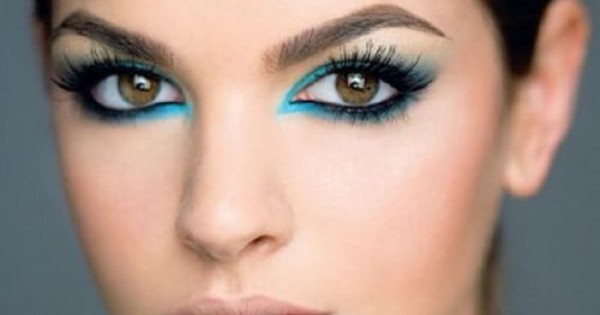 Makeup is a necessity for ladies in every nook and corner of the world. Make-up is a 'makeover' for every woman. We have some outrageous 'tips and latest trends' for your make-up. You should have proper accessories for your make-up.
You must see Bobby Brown or Macs brush kits. Their brush range is about 24 in a pack, which includes different all kinds of brushes. You do not need to purchase all, but you should have some specific one – eyelid brush, smug corner brush, blush-on applier, eyebrow brush and a base applied.
Latest London fashion week has introduced all shades of 'blue' once again for new trends of make-up. The sky blue or electric blue are the most showing off shades for 2016 fashions. For alluring eyes that attract every man in the ballroom needs to have one perfect look.
The first step you need to do is use a base that goes with your complexion and one other base that is one tone darker than your skin. Apply the darker base on three different places for best contouring.
Apply it on cheek bones towards the corners of your mouth
On the corners of your forehead towards top of your ear
Next put lines on your chin bones till your ears
Now in the rest of your face put a lighter shade of your base and mix it with the tips of your fingers. When the base gives you all balanced look, and you see all your bones highlighting outwards then apply some compact powder to keep your base steady for long. Here you have a complete and perfect base on your face ready to start your make-up.
"HINT" never apply base or powder on your eyelid because they smug your eye shades.
"HINT" for the day makeup you need naked pastel shades to look more natural. But for night parties or formal weddings you want to look different and made over. Latest make wonders with your eyes. You can always pick electric shades that cover your eye like and make your eye corner black. Smudge the black shade nicely that it looks like the end of an eye shade. Put a highlighter on your eye pit under your eyebrow. Mix your eyebrow with a dark brown shade to give your eye a full look.
Now your eyeliner will give it a complete look. If you have small eyes, apply liner all around your eye to enhancing it but if you have a beautiful big eyelid then put a thin and a smart liner along with your eye-shade. Curl mascara will give you full supermodel look, and your eyes are ready to flash.
Put blush-on on your cheek bone line to look younger n contour your nose tip with a little highlighter to give it a shine. The lips colors always give you overlook. Your lip color highlights you among people. Subtle and light shades like peach pink and oranges are in fashion now. Now you are ready to give a super look to everyone around you.s Every eye will follow you around the room.